Welcome to the home of Bo'ness Sporting Automobile Club
THE NEXT BO'NESS HILL CLIMB WILL BE HELD
OVER THE WEEKEND OF 31 August AND 01 September 2024.
We have added a new Gallery of selected photographs to the website from the 2023 hill climb. We are very grateful to Colin McLean, David Baxter, John Buchan and Jim Moir for the use of their photographs in this gallery. If you would like to purchase a photograph, or would like to see more of their work, then please make contact through the Club's contact page. Thank you.
2023 was the second hill climb organised by Bo'ness Sporting Automobile Club. Our aim is to preserve the heritage and tradition of motorsport at Kinneil Estate. None of this could have been possible without the support of our Club Patrons, Friends, Members and the wider motorsport community.
The Club wishes to sincerely thank John Clark of the John Clark Group, Dr Barry Wood of Turnkey and all the original nine members of Ecurie Du Fer for their support this year.
We would also like to thank Lynsey Gow, Lesley Sweeney, Mike Ewart and Alan Brodie of Falkirk Council for their help.
Special thanks also to the residents of Kinneil Estate who will live through three days of motorsport on their doorsteps plus all the noise and bustle of the set-up and take-down periods.
Finally, we would like to thank the following groups and individuals who have helped in some way to make this event a success – The Friends of Kinneil, Sean and Steve at Sustainable Thinking Scotland, LocHire, Event-a-Loo, Lothian Car Club, Mini Spares, Colin at Robertson Timber for his support yet again this year, Brian Raeburn and Gary Maxwell for their local help and expertise, Dave and Ali at DS Cleaning, George Marwick for his ongoing support of Class 4, Russell Jordan and Nu-Phalt Contracting, Peter Speakman for his encouragement, Mark and Nairn Jardine for course set-up, Colin McLachlan for his infectious enthusiasm and support, Paul Neil MacLachlan for the Paddock and of course all the officials who are helping this weekend Campbell Deas, Billy Cater, Jim Reid, Jim Brown, Jonathan Louden, Hazel Galbraith, Chaz Marshman and all his marshals, Jock Ramsay, Tim MacKay, Linlithgow Air Cadets and all the other unnamed volunteers who work away behind the scenes.
Next year we celebrate ninety years of motorsport at Kinneil. We hope you can join us.
Upwards and onwards!
Special thanks must go to Brian Raeburn, Gary and Ryan Maxwell for maximum effort during the two day set-up and take-down of the venue. We need more people to help next year!
The Bo'ness Sporting AC team this year consists of Vernon Williamson, Bill Drysdale, Kenny Baird, Paul Neil-MacLachlan and Brian Raeburn.
For more details of our activities please see our Events page.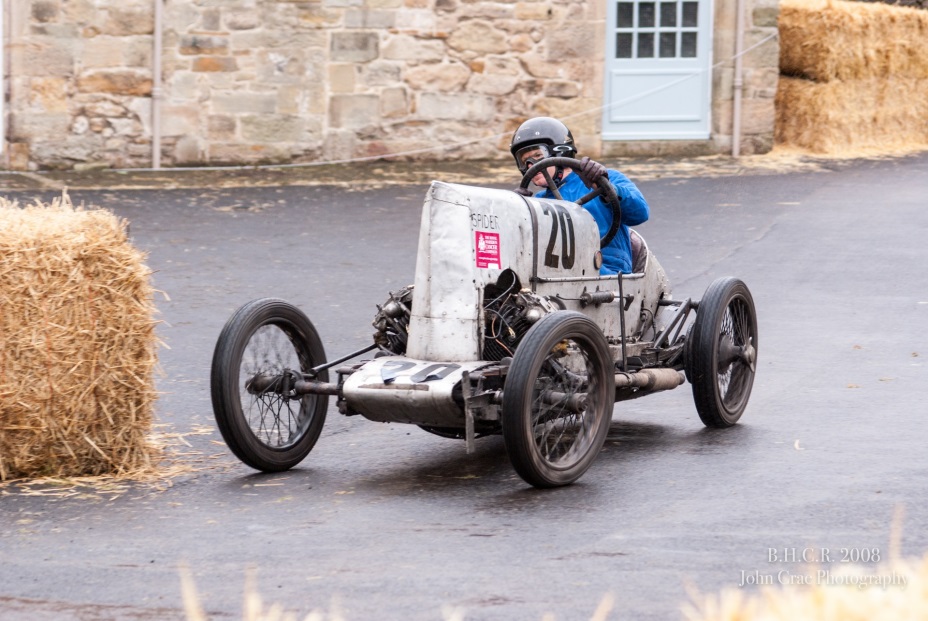 David Leigh in his GN Spider at Bo'ness in 2008. Photo courtesy of John Crae.