Welcome to the home of Bo'ness Sporting Automobile Club
We are very pleased to announce that the next Bo'ness Speed Hill Climb will be held in Kinneil Estate, Bo'ness on 02 and 03 September 2023.
Entries are now 'open' and you can apply for entry via our Events page.
We have added a Gallery of selected photographs to the website from the 2022 hill climb. We are very grateful to Robbie Morris, John Buchan and Jim Moir for the use of their photographs in this gallery. If you would like to purchase a photograph, or would like to see more of their work, then please make contact through the Club's contact page. Thank you.
Last year we held our first hill climb in Kinneil Estate Bo'ness on the 10th and 11th September 2022.
Bo'ness Sporting Automobile Club would sincerely like to thank every single person and organisation who helped to make last year's event a success.
A big thank you goes out to the following –
Our Event Partners - Colin Robertson at Robertson Timber, Jimmy Rafferty at Bernard Hunter Crane Hire and Gregor Fisken at Fiskens.
Local organisations that assisted - Falkirk Council, The Friends of Kinneil, Historic Scotland and Sustainable Thinking Scotland.
Motorsport UK staff who provided support and advice – John Ryan, Dan Carter, Simon Fowler, John Fenwick, Michael Duncan and James Tattersall.
The Scottish motorsport community who rallied round and joined the new Club creating a healthy membership base and whose membership subscriptions, encouragement and support ensured that the 2022 Bo'ness Hill Climb went ahead at Kinneil.
Doug Niven and Ian Calder of the Jim Clark Trust for helping to source the straw bales and Mark Jardine for his careful set-up work with the bales and fencing. Anna Plant, Gary Smith and Lyndsay Gow from Falkirk Council for their help, advice and encouragement. George Steel for brushing and clearing the track at the last minute.
And last, but definitely not least, all the individuals who contributed to the creation of the new Club and to the planning and running of the event - Ewan McNab for the website and membership system, Chris Ryan, Ewan McNab and Alex Lundie of JMW Systems for the PA and track camera set-up, Gordon Whall, Pawel Stepien and Jim Reid for the hill climb timing equipment and operation, Raymond Mann for the results service, Hazel Galbraith for Hill Control, Steve Wilkinson for commentary, Lindsay Walls and Iain Paterson for arranging marshals - and of course all the marshals who worked over the weekend, Jock Ramsay for paddock and track tidying work, Donald MacDonald and Walter Robertson for Club Stewarding, Jonathan Loudon for the Recovery Truck and numerous other duties, Billy Cater for sorting out the extinguishers and radios, Fraser Ewart for arranging stickers and other support, our volunteers who stepped in at the very last minute to carry out tidying-up and to run the entry gates etc – Cameron and Louise Baird, Chris Waiton, Graham Gow, Jack Cunningham, Les Connett, Dave Fenwick and Maureen Soar.
Special thanks must go to Brian Raeburn, Gary and Ryan Maxwell for maximum effort during the two day set-up and take-down of the venue. We need more people to help next year!
The Bo'ness Sporting AC team this year consists of Vernon Williamson, Bill Drysdale, Kenny Baird, Paul Neil-MacLachlan and Brian Raeburn.
For more details of our activities please see our Events page.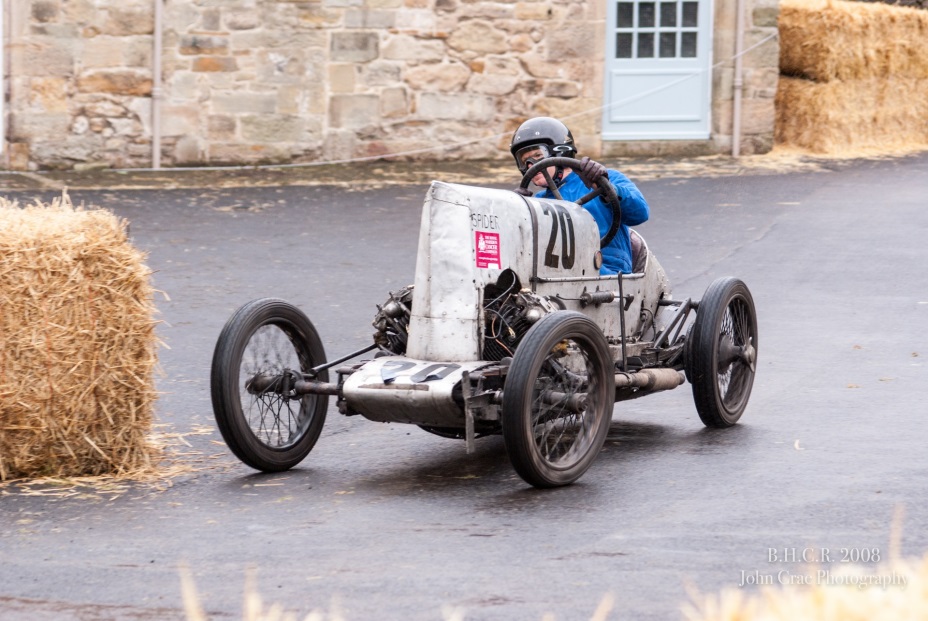 David Leigh in his GN Spider at Bo'ness in 2008. Photo courtesy of John Crae.